Surprised to see me? Thought I was gone for good? Is anyone even reading this? >.<
Well to be honest, I wasn't sure I was going to return to blogging but here I am. The feeling hit me and I decided to go ahead and jump back in. I still don't want to commit to a schedule because I like being a mood blogger. Sure my numbers won't grow and my audience will thin out, but thats ok. I like to blog mostly *for me*.
ANYWAY, lets get into how my month went for reading!
So January and all of February was supposed to be filled with Sookie Stackhouse novels due to me starting a Sookie Series Buddy read. I was going strong until I hit the fifth book. This is the first time I ever tried to read an entire series consecutively. And considering that the Sookie Series is 13 books long, I had to have true commitment. Turns out, I did not have the commitment. I stopped after book 5. I do plan to finish the series this year but I definitely need to break it up!
I did mini reviews for these over on my Goodreads page. Overall, I still think they are mostly 5 star reads because of the genre it is. This is nothing riveting or mind blowing. But if you are looking for fun, light, exciting, and a bit sexy, then these books are for you.
Another book I read was the NetGally book, Willful Depravity by Ingrid Hahn. I decided on a 3 star review for this. You can read the review here.
Once I decided to take a break on the Sookie Series, I had to choose my next book. I was going to read Six of Crows, and I even started it before I put it down for something else. I was listening to the audiobook of Winter for awhile and I hit a part where it was getting really good and I didn't want to wait until my commutes to listen to it. So I picked up the physical book and do not regret it at all!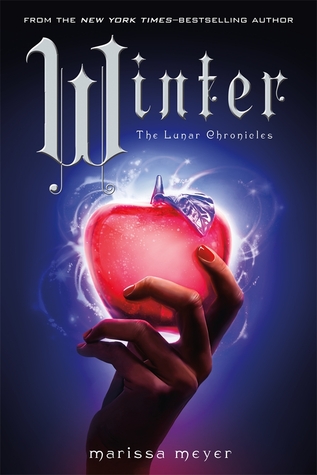 I loved this entire series but Winter may be my favorite of all the books. It was full of action. I especially love how Meyers writes her characters. They all have a very distinct personality. This was a 5 star read for sure!
So in all, I read 7 books for January.
For February, I am having a hard time choosing which books to read but I have a tentative list. I do want to complete at least 4 books. Here is my TBR "wish list." As in, I wish to be able to complete them!
City of Ghosts (for my LitCoven book club)
Hidden Bodies (sequel to YOU)
Not pictured: Sawkill Girls (for Booktube Games group read).
As of right now, I plan to participate in the Booktube Games on Twitter. It is basically a bunch of people divided up into teams (I'm Team Ketterdam!) with a goal of reading the most pages. It is honor based system. If I can remember to log my pages, then it will be great. If I forget to log (likely) then it will be another failed challenge lol.
I am hoping to write an entire series review for The Lunar Chronicles soon, so please be on the lookout for that.
Until then, I hope you all had a wonderful February!